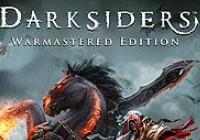 Joe Madureira loves the Devil May Cry and Zelda games. He loves these so much that he struggled to keep his comic book series on schedule because he spent so much of his time playing them. It was no surprise to anyone when he decided to abandon his career as a comic book artist and become a game developer. With Darksiders he wanted to combine the adventure elements and general template of Ocarina of Time, Dante's move-set and playability as seen in the Devil May Cry series, and his signature comic book art style that was often imitated by the boys at Blizzard who made World of Warcraft. It is a lot of tasty ingredients that Madureira picked and sampled to make his dream action-adventure and it all sounds good on paper; a veritable Reeses Peanut Butter Cup of things people liked. For the most part, things mixed well, but no one aspect is exceptional.
The world is in the state of Armageddon, courtesy of the protagonist War. Enormous demons and wrathful angels are giving everyone a bad time and everything is doomed. Only, War made a big 'oopsie' and was not supposed to initiate this doomsday... uh-oh! After oversleeping, years passed and War has to set things right by getting his plot coupons, meeting strange weirdos, and gaining more power so he can stick it to the most obvious bad guy. The story is extremely comic book-y, as expected from someone like Joe Madureira. It's dripping with '90s edginess and brooding. The voice acting and script is hilariously serious and with no hint of self awareness or irony. It is almost adorable and comes off like a teenager came up with the material. The issue with all this is that nobody is going to get invested in the characters or story. There is not much heart here in spite of the effort put here because the creators were only interested in presenting something that is "cool' or "badass." Characters feel about as relatable as a neat action figure, but at the very least Darksiders always is entertaining.
This really wanted to have cool and stylish combat of Devil May Cry - it really tried, but, sadly, is nowhere near Capcom's devilish hack n' slash. War's enormous sword is mostly for show, and is actually hilariously weak as it takes him like several swings to break old dusty wooden tables that have been sitting in a decrepit abandoned library for over a hundred of years. Enemy health is abnormally high, or at least foes feel like they are taking too many hits from a blade that looks like it weighs roughly the same as a car. Most larger enemies can be stun-locked infinitely using the Earthcaller horn mid-combo after about two slashes, and this can be done indefinitely at no cost.
The combat is rife with exploits like this that high level players will find, dancing circles around the more dangerous threats that awkwardly stand around and getting interrupted like a obnoxious child that is getting slapped for saying something stupid. Boss battles fare much better and feel consistent with the kind of encounters that Link would negotiate in his games. This is due to how rigidly designed the bosses are since they are more puzzle-like than any kind of dynamic fight. In the end, the best part of Darksiders is actually the huge dungeon designs.
Joe Madureira really wanted to outdo Zelda by doing dungeons much bigger and more ambitious. For the most part, exploring these locales is engaging and stimulating, thanks in part to how rooms connect to one another and how one puzzle in one area might affect something somewhere else. War will be platforming, climbing, hitting switches, blowing up things, having to create paths and so on. There is a good amount of inspired puzzle design that often times can be set in a enormous multi-floored room that will make use of the various accoutrements and tools that War will collect. There is al lot good here, but it does succumb to having some very obvious and arbitrary filler. Once in a while some dungeons might have War double back minutes worth of backtracking or even worse; arena battling with conditions for keys. These arenas always look the same and are always sequestered away from the dungeon via a teleportation. There are even rail-shooter sequences could have easily been removed, but are implemented for the sake of spectacle. This is cheap and tedious padding to an already pretty long adventure.
The cheekily titled Warmastered Edition on Switch is not going to have the same full suite of enhancements that the Xbox One or PlayStation 4 ports have by virtue of having much lower specs. This port allows the user to choose the compromise: high frame rate with lower image quality or higher image quality with a 30fps cap. This was a fair middle ground that should please everybody and is a reasonable trade-off to take War on the bus or vacation. The graphics hold up thanks in part to Joe Madureira's stylish designs, even if there is some incongruent sense of scale. Sometimes War looks like dwarf in the environment because of how stocky he is, and man-made structures like a simple doorknob will be pretty high to his face and all of this is compounded by his ridiculous oversized left hand. War's anatomy makes no sense, and his movement speed had to be made much faster than it could be realistically for the sake of fun gameplay, but now he ends up looking like red leprechaun.
Graphics ()Gameplay ()Sound ()Value ()Final Score
Anyone who wants a quality Zelda-style action adventure game on their Switch is going to be better off with [i]Okami HD[/i]. [i]Darksiders: Warmastered Edition[/i] is a polished and shiny bronze medal. Fighting monsters is as standard can be, and what keeps things stimulating is the variety of the environment, puzzle solving, spectacle, and the exploration to be had. It is satisfying to stumble on a hidden chest and find some upgrade that War could use as it is in most adventures. Often entertaining but not exactly emotionally engaging, [i]Darksiders[/i] takes itself too seriously.