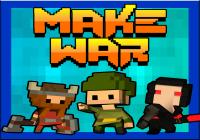 Our friends over at No Gravity Games have given us, Cubed3, the opportunity to run a competition for the newly launched Make War on Nintendo Switch.
Make War, a tiny, vortex, action-packed strategy game just launched on Switch. Start invading battlefields from all across the world and HISTORY. From ancient Romans to Vikings, to World War 2, to cyberpunk cities and the future world. Build structures, command armies, and deploy weapons of mass destruction. Use 35 combat units, 45 weapons and complete 160 missions.
One lucky winner will have the chance to win a copy, all you have to do to enter the competition is to head over to our social media account on Twitter and follow the Cubed3 account as well as liking and retweeting the competition post. 
It really is as simple as that! The competition closes at 23:59 (BST) on Friday 15th May 2020.
 
Cubed3 will pick 1 competition prize winner on Saturday 16th May 2020. Remember, to receive the prize you will automatically accept the terms and conditions laid out on this page.

For full terms and conditions of the prize draw please read the below.
1. The prize draw (the "Prize Draw") is open to people aged 18 and over who have followed/already following @Cubed3 on Twitter, liked and retweeted the appropriate social media post.
 
2. Employees of Cubed3 ("C3", "We") or their family members, or anyone else connected with the Prize Draw may not enter the Prize Draw.
 
3. Entrants into the Prize Draw shall be deemed to have accepted these Terms and Conditions.
 
4. To enter the Prize Draw you must follow @Cubed3, retweet/share and like the competition post. If you are drawn as the winner then you will need to submit your name and email address (privately) to claim your prize.  No purchase is necessary. If you have any questions about how to enter or in connection with the Prize Draw, please e-mail us at neil.flynn@cubed3.com with "Cubed3 Competition" in the subject line.
 
5. Only one entry per person. Entries on behalf of another person will not be accepted and joint submissions are not allowed.
 
6. Entrants from any where are accepted. The code is for the European Nintendo eShop.
 
7. Cubed3 accepts no responsibility is taken for entries that are lost, delayed, misdirected or incomplete or cannot be delivered or entered for any technical or other reason. Proof of delivery of the entry is not proof of receipt by Cubed3.
 
8. The closing date of the Prize Draw is 23:59 (UK BST) on Friday 15th May 2020.  Entries received outside this time period will not be considered.
 
9. One winner will be chosen from a random draw of entries received in accordance with these Terms and Conditions.  The draw will be performed by a random computer process.  The draw will take place by 23:59 BST on Saturday 16th May 2020.
 
10. The winner(s) will receive 1 digital download copy of Make War for the Nintendo Switch.
 
11. Cubed3 accepts no responsibility for any costs associated with the prize and not specifically included in the prize. Nor does Cubed3 take responsibility for the prize being non delivered or the winner not being able to accept the delivery. We will endeavour to ensure the prize is delivered. In the circumstances that the prize is not delivered Cubed3 takes the responsibility to be able to have an unclaimed game returned after 28 days.
 
12. The winner(s) will be notified by Twitter Direct Message or by Facebook Messenger no later than Sunday 17th May 2020 and must provide their postal address to claim their prize. If a winner does not respond to Cubed3 within 14 days of being notified by Cubed3, then the winner's prize will be forfeited and Cubed3 shall be entitled to select another winner in accordance with the process described above (and that winner will have to respond to notification of their win within 14 days or else they will also forfeit their prize).  If a winner rejects their prize or the entry is invalid or in breach of these Terms and Conditions, the winner's prize will be forfeited and Cubed3 shall be entitled to select another winner.
 
13. The prize will be sent to the winners by Cubed3 by email. Please allow up to 30 days for delivery.
14. The name of the winner(s) will be publicly announced after the winner(s) have been sent the prize.
15. The prize is non-exchangeable, non-transferable, and is not redeemable for cash or other prizes.
16. Cubed3 retains the right to withdraw or substitute the prize with another prize of similar value in the event the original prize offered is not available.
17. The winner(s) may be required to take part in promotional activity related to the Prize Draw and the winner shall participate in such activity on Cubed3's reasonable request.  The winner(s) consents to the use by Cubed3, both before and after the closing date of the Prize Draw for an unlimited time, of the winner's image, photograph and name for publicity purposes and in advertising, marketing or promotional material without additional compensation or prior notice and, in entering the Prize Draw, all entrants consent to the same.
18. Cubed3 shall use and take care of any personal information you supply to it as described in its privacy policy, a copy of which can be seen here, and in accordance with data protection legislation.  By entering the Prize Draw, you agree to the collection, retention, usage and distribution of your personal information in order to process and contact you about your Prize Draw entry, and for the purposes outlined in paragraph 13 above.
19. Cubed3 accepts no responsibility for any damage, loss, liabilities, injury or disappointment incurred or suffered by you as a result of entering the Prize Draw or accepting the prize. Nothing in these Terms and Conditions shall exclude the liability of Cubed3 for death, personal injury, fraud or fraudulent misrepresentation as a result of its negligence.
20. Cubed3 reserves the right at any time and from time to time to modify or discontinue, temporarily or permanently, this Prize Draw with or without prior notice due to reasons outside its control (including, without limitation, in the case of anticipated, suspected or actual fraud). The decision of Cubed3 in all matters under its control is final and binding and no correspondence will be entered into.
21. Promoter: Cubed3.com and No Gravity Games.